Factory for the production of tiles
Even the hoped-for production increase did not materialize. So the company's board, who held Von Gudenberg accountable, put him under serious pressure. In 1888 an attempt was made to improve profits by increasing the company's production scale. In the grounds of the old villa a new factory complex rose. But business results remained disappointing. The company's shareholders then lost patience and decided to save their investments by setting up a factory for the mass production of tiles. Colenbrander immediately began designing tile patterns.
Alexander Vosmaer
Mesdag and other fans regretted to see the company enter a period of unrest and artistic decline. Stability seemed out of reach for its directors, many of whom left prematurely. And the new tile department did not meet expectations either. Then, in 1892, the company's energetic technical director, Alexander Vosmaer, was made its general manager. He had earned his stripes before, improving the delftware's technical quality and providing a whole new range of colours for its underglazes. Vosmaer decided to make a strategic change. He understood that Rozenburg would have a future only if it focused on artistic products again. To do so, he needed skilled delftware painters. These did not have to be overly creative; their job would be to copy existing decorations from books.





Haagsche Plateelbakkerij Rozenburg
In 1886 the factory was renamed Haagsche Plateelbakkerij Rozenburg. But even though the villa's rooms buzzed with creativity, it did not make a lot of money. In fact, despite the critics' praise, sales figures were downright bad. So a commercial director was hired, and artists and politicians who were friends with Von Gudenberg canvassed for buyers and investors. This worked: enough people acquired shares for the company to be able to buy state-of-the-art gas-fuelled ovens. Nevertheless, the promise of better commercial results was not realized.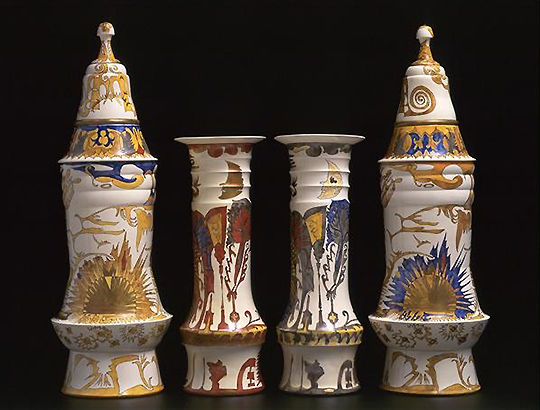 Mesdag and Vosmaer
This first vase defined Colenbrander's signature style. It is so individual that his work is always easily recognized. Famous artists, like painter Hendrik Mesdag and writer Carel Vosmaer, admired Colenbrander's  exuberant designs. A set of vases of incredible beauty titled Day and Night, designed for a cabinet top, proudly stood in Mesdag's home for years. (Now everybody can admire it, in the Gemeentemuseum Den Haag.) Mesdag became involved with the factory, too. He contributed some of his own work, to be copied onto tile tableaux. And he helped the starting venture from his considerable private funds.
1889
Finally, the money ran out. A change of directors enabled the company to attract new investors, and they pushed ahead with the tile factory. Van Gudenberg was fired and, fed up, chucked his ambitions. He demanded a high price for the company's secret glazing recipes, even though he was hardly able or willing to reproduce them.
In the meantime, the company's working climate had changed significantly. Colenbrander, used to having a say in everything, increasingly had conflicts with the new directors. When he was pressured to change his ways, the artist too decided to resign. The new directors did not mind, for they believed that his labour-intensive earthenwares, meant purely for decoration, would never allow a healthy business to grow.
Rozenburg:
decorative plate
Theo Colenbrander, 1886
photo Proportio Divina, Arnhem
Rozenburg:
'Dag en Nacht' ('Day and Night')
Theo Colenbrander
Collection Gemeente Museum Den Haag,
www.gemeentemuseum.nl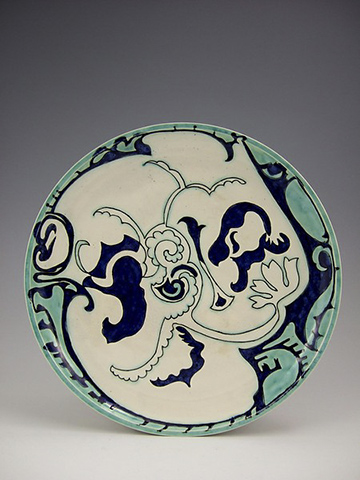 Hier wordt de inhoud voor id "blokje14" weergegeven
Hier wordt de inhoud voor id "blokje13" weergegeven


Rozenburg:
lidded vase,
T.A.C. Colenbrander,
1886
photo: Proportio Divina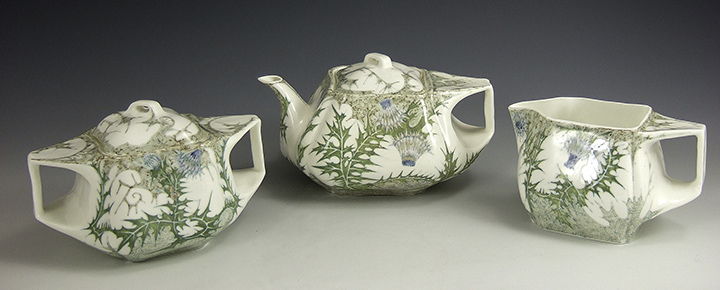 Rozenburg tea service
decoration: Samuel Schellink
(1908)
photo: Proportia Divina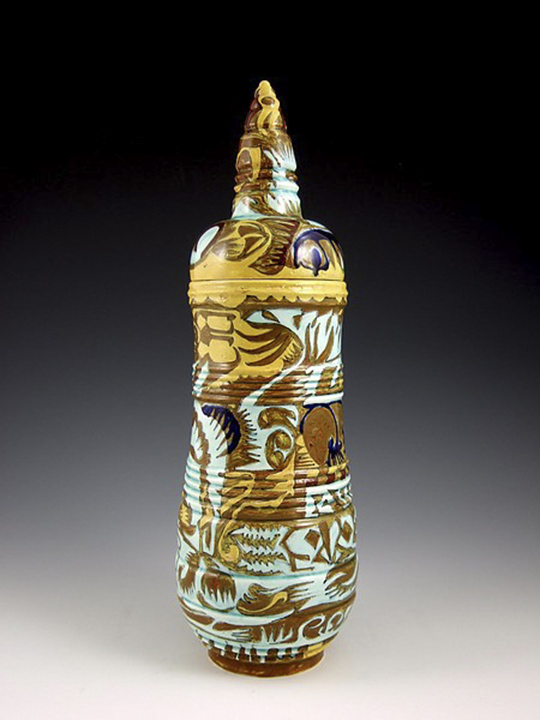 The first years of the company were not successful and despite Colenbrander's contributions the little delftware factory folded. But a new, larger factory was confidently set up anyway. Its location was an empty villa called Rozenburg, on the Zuid-Buitensingel in The Hague, a house that offered large, bare rooms to work in. The first of Colenbrander's delftware was presented in 1885, a cause for celebration.
None of Colenbrander's objects are workaday products; they all have the force of statements. And his first product, a vase, still strikes us as exotic now. Its lower half is made up of stacked rounded forms, while the finial on its lid reminds one of the towers of ancient temples in the Far East. The ridges seem to refer to African necklaces. And then there is its expressive, partly floral and partly abstract painting, in bright colours against a white background. While its individual elements may seem a jumble, the vase as a whole radiates an unmistakable unity.
Rozenburg (till 1914)
page 2